http://photogs.tel
This page is current as of March, 2010
Many of the images posted at http://WallpaperOriginals.com are available, royalty free, licensed on a "pay-per-application" basis.
Images are available at the largest size posted at http://WallpaperOriginals.com, without our signature, at a base cost of US$25.00 per application. In other words, if you are creating a flyer the base fee is US$25.00. If you are creating a flyer and a newspaper ad the base fee is US$50.00. If you are, in addition to the above two items, creating a corporate (not-for-sale) greeting card you would add another US$25.00 (base) for a total of US$75.00 for the three applications.
nb "Base Fee" refers to low-res files - as those used on the internet - regardless of dimension.
Some applications such as publishing may be more expensive. Please contact us to confirm rates.
Images are not available for re-distribution. Images are licensed for single, end-use applications only. When entirely redesigning a flyer for a different production run it is deemed to be a different application. Reprints are deemed to be the same application. Creating two flyers for the same campaign, using the same image, is deemed to be two applications.
Paid use of an image does not include any assignment of rights. Neither does it constitute any exclusive right to use. Images may not be redistributed (given away or re-sold in digital or print format) in whole or in part. Rights to use may not be reassigned.
Acceptable uses include but are not limited to:
- publicity material (eg, flyers, folders, billets, etc)
- corporate applications (eg, decorative elements in electronic presentations, accent images on web sites, or images for annual reports, etc)
- graphic design elements (which may include business card and letterhead graphics, packaging)
and any number of other end-use applications.
In many cases we are able to provide custom (higher resolution and/or larger) scans/images at an additional fee of US$25.00/per image + any applicable handling (eg, courier fees). Touch-ups, colour corrections, close-cutting, cropping and other services are provided on a fee-for-time basis.
We may be able to get custom photos. If you see something you want but it is not exactly right we may be prepared to photograph (or re-photograph) it for you. Please feel free to Contact Us.
The bottom line is, this service is so reasonably priced that the price is a deal. G.S.T./H.S.T is charged in Canada only.
Payment is due, in advance of delivery, by Visa or MasterCard.
Rates (authoritative) in US currency:
72 dpi 640 x 480 pixels - $25.00
Publication cover - phone for pricing - 519-752-5381
Special scans (when possible) - US$45.00
Custom services (includes cropping, touch-ups, etc) - US$95.00/hr
Collages - US$95.00/hr
Registered non-profit organizations/charities may be eligible for discounts up to 20 %.
If you are interested in purchasing usage of any of the images at http://WallpaperOriginals.com please feel free to contact us.
Please don't forget to include the following information:
Image name (identify the image of interest by looking at the URL/Web Address. the image name is at the end of the address. In the image below, the image name, "brusselsprouts1", is hilighted in yellow):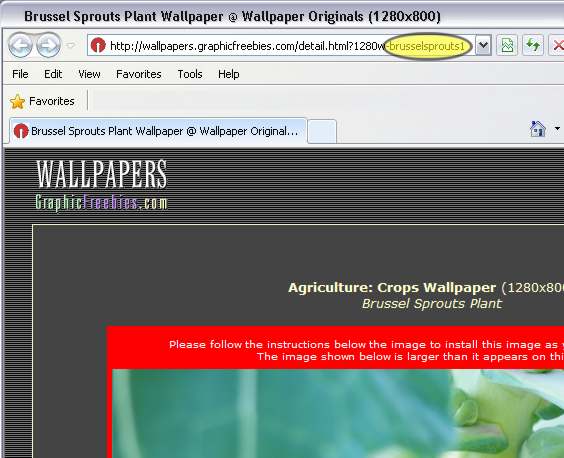 size in which you need it (eg, 4 x 6 inches, 10 x 15 cm or 640 x 480 pixels) and
usage (eg, flyer, inside book cover, back [or front] book cover, web site, etc).
This will help us determine the resolution in which you need the image and if, in fact, it is available for your application.
Photos.biz and WallpaperOriginals.com are Galganov & Associates web sites.
KIS.BIZ� - Keeping It Simple in Business